ATOMIC DEFENSE LEVEL IIIA+ PADDED BULLETPROOF BALLISTIC PARTIAL FACE MASK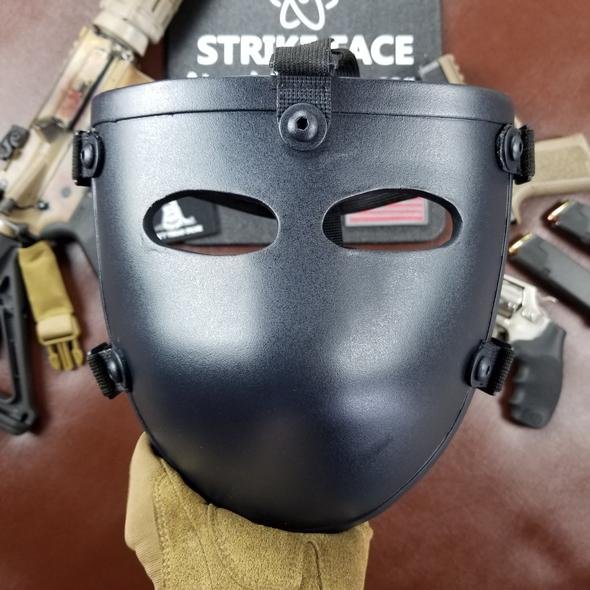 ATOMIC DEFENSE LEVEL IIIA+ PADDED BULLETPROOF BALLISTIC PARTIAL FACE MASK
*MANUFACTURER'S NOTES: LEAD TIME 3-4 WEEKS
Ballistic Face Mask - Universal Helmet Adaption - The same supplied to the Taiwanese Special Forces - Home Defense and Breaching Ballistic Masks.
Product Features and Benefits
Easily stops; 9mm, 45 ACP, .44 Mag, .22, .380, .38, 10mm, 12 gauge, 12 gauge buckshot, and so much more! + see the chart below on our website.
High compression PE (Polyethylene) fabric to yield the most comfortable shaping. Complete facial protection.
Upgraded EverLast-elastic straps. Prevents loose feeling after thousands of uses.
Padding over the entire forehead, temples, cheek bones, and cheeks.
Newest version, direct from us in California! Designed for special forces around the world so you can rest easy.
Don't buy a bulletproof mask before reading this: Other retailers masks are not rated and tested. Other masks risk bullet splatter and shrapnel in the users face. This one does not.
This IIIA+ mask is also stab proof. When you need this mask the most you'll likely be close quarters. Don't get another mask and risk knife penetration.
Product Specifications
Weight: 2 lbs.
Size: Fits all sizes and helmets
Color: Black
Hold: 5 point secured
Certification: Mil-spec level 3A+
Facial Armor - Ballistics
No one wants to get shot in the face. With our newest facemask you don't have that risk.
How are they better? Current masks on the market are only level IIA and II. This means they don't stop the typical home invasion rounds like 12 gauge slugs. 45 ACP and 40 cal. that we can.
The best NIJ level IIIA rated facemask with padding and absorbs bullets better than steel while being super light.
Additional padding on all sides of the face with a five point holding system minimizes shock from ballistic threats by keeping your face a half inch from the skin in case of bullet impacts.
Stops the NIJ IIIA 0101.06 standard up to .44 mag, 9mm, 45, shotgun slugs, and many more. All while being capable of taking multiple hits.
Helmet shown in the video is the bulletproof facemask that has our helmet cut for our mil-spec bulletproof helmets, using the same materials.
☑️Free Worldwide Shipping: Free ship to over 200 countries & regions. Each order includes a real-time tracking number and insurance in case the package is lost or stolen in transit.
☑️Money-Back Guarantee: Within 30 days after receiving the product, if the item you received is defective, does not match the description, or any other problem, we will gladly issue out a replacement or refund.
☑️Safe & Secure Payment: We use encrypted SSL security to ensure that your personal and financial information is 100% protected. Safe payments with PayPal or credit card.
☑️24/7 Customer Support: Round-the-clock assistance for a smooth shopping experience, if you have any questions, please feel free to contact us.
We do our best to process & ship all orders as soon as possible. Most orders are processed within 48-72 hours. We process orders between Monday-Friday and do not ship on weekends.
We're proud to offer worldwide shipping for all orders.
| | | |
| --- | --- | --- |
| Shipping Method | Cost | Delivery Time |
| Free Standard Shipping | FREE | 7-14 Business Days (Worldwide) |
| Expedited Shipping | $15 | 5-10 Business Days (Worldwide) |
Tracking your order:
Our orders always include tracking information that is normally sent via email within 48 hours after the order has been shipped.
Last updated on:December 26, 2021
Welcome to Tophelmetfan.We focus on the pursuit of product quality and excellent customer service. We are committed to providing a comfortable and peaceful purchase experience for each customer. But to make sure the recipient's name, delivery address and phone number are correct, otherwise we will not be responsible for lost goods.
Cancellation
If you want to cancel the order, please contact our customer service within 6 hours after placing the order and before the goods are shipped. We cannot cancel the order while the package is in transit. Thank you for your understanding.
Damage
We assume full responsibility for products that have been defective due to incorrect packaging, any obvious damage to your products on arrival or during transportation. Please check the packaging when you receive the goods. If you find any damage, please record it when you sign for it. If the items in the package are damaged on arrival, please send the photos to [email protected] and we will handle the insurance claim on your behalf.
Exchanges (if applicable)
We only replace defective or damaged items. If you need to exchange for the same product, please send an email to [email protected] and you will get the return address where the product will be sent to. You are responsible for all return shipping costs. We recommend that you use USPS or DHL to send returns. HelmetBro is not responsible for lost returns.
Return
tophelmetfan.com return policy lasts 30 days without any reason after receiving your product, if you are not satisfied within 30 days, please follow these guidelines to get a return/refund.
1. If you are unsatisfied for whatever reason, please contact our 24-hour support staff at [email protected] We are happy to return any unopened, undamaged, unused, and unexpired product within 30 days. (Please note that you need to bear the return shipping cost yourself)
2. To be eligible for a return, your item must be in the same condition that you received it. please contact [email protected] to get the return address.(Please be sure to contact us to get the correct return address, returns without contact will not be refunded).
3. After receiving and reviewing your return, we will send you an email to notify you that we have received your returned product. We will also notify you to approve or reject your refund. Once the product has been returned, a FULL refund will be processed. From the date of receipt of the goods, please allow 2-5 business days for us to process the refund.
Partial Return
If the order contains two or more products, but the customer only wants to return one of the products, please contact our 24-hour support staff at [email protected] to obtain the return address and return confirmation.
Once the product is returned to the return address, we will process a partial refund based on the quantity of the product.
Refund Timeframe
Once the product is returned and accepted at the return address, the customer will receive a full refund, and it may take 2-5 business days for the funds to appear in your bank account.
Delayed or lost refund (if applicable)
If you have not received a refund, please check your bank account again first.
Then contact your credit card company, it may take some time for your refund to be officially released.
Next, contact your bank. There is usually some processing time before refunds.
If you have completed all of these actions but have not received a refund, please contact us at [email protected].
If you have any questions, please feel free to contact us at [email protected] We are happy to serve you.
FAQ:
1. What do I need to do to request a return or exchange?
1. Obtain a return or exchange authorization by sending us an email to [email protected] to explain the reason for the return or exchange. Please use or indicate your order number as a precaution. Unless otherwise stated on the product description page, a return or exchange request must be submitted within 30 calendar days of receipt of the shipment.
2. When we agree to your return or exchange, we will give you a return address and a statement, including: (1) Your return request has been confirmed, (2) Your return must meet our above requirements: The packaging is intact, the product is unused, no damage, no peculiar smell, and no deformation.
3. The return cost shall be borne by yourself. We encourage the use of USPS uniform shipping rates when returning products to provide better protection. The customer must ensure that all returned packages are accompanied by a receipt and signature confirmation. We strongly recommend that you insure your package, if the package is lost/damaged in ransit, we cannot refund unreceived items.
When we receive your return, we will process your refund immediately. If it is a replacement, we will also mail you the new product on the day of return (except for the shipping cost of the product return, you have no other additional costs)
2. How long will it take for me to receive a refund or exchange product?
1. The refund time is calculated from the time we receive your return. Usually, the refund includes two aspects. First, we will initiate a refund immediately after receiving the return. It is about 1 to 2 working days. Second, It may takes about 2 to 3 working days for your bank to receive and update the refund. The total time required is 2-5 working days.
2. The time to replace the product is also calculated from the receipt of your return. We will re-mail the product to you according to the new order method. It will take about 7 to 16 days. Expedited mailing (you need to pay an additional fee) can be within 10 days.
3. What costs will be incurred for the product I apply for a refund or replacement, and how much will it cost?
1. You need to bear the mailing cost of the return, depending on your residential address. If it is a replacement, you only need to pay the returned mailing fee to replace the product, and we will be responsible for the shipping cost of re-mailing the new product.
2. If the product has been used or damaged, or it has been more than 30 days since you received the package, we will not accept returns.
3. If we agree to a refund, we will give the full refund to your account as soon as possible, and no other fees will be incurred.
4. If your order exceeds 2 pieces and you want to return one of them, please contact us([email protected]) first to confirm the refund amount.