GW-H300 Outdoor Energy Storage Power Supply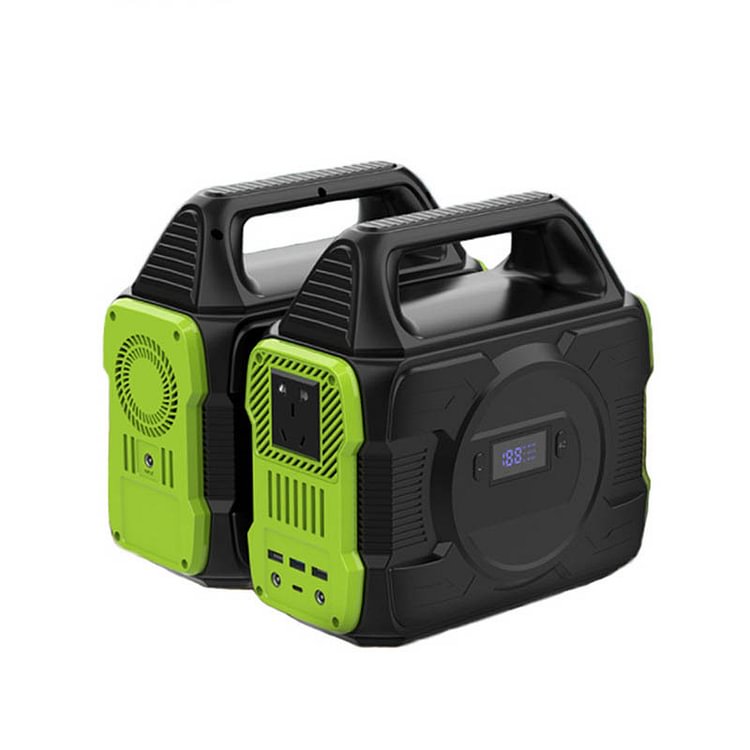 GW-H300 Outdoor Energy Storage Power Supply
1、Dimension diagram
2、Structure Performance
Dimension :8.86*4.72*8.47 in
Weigh: 6.3lb
Materials:PC (Top and Bottom)+ABS(Middle Frame)
3、Basic functions and usage
3.1Charging a power bank
It have pre-charging, constant current, constant voltage functions.
1、Charged the portable power station with Adapter by USB Cable or DC Cable or Solar Panel; The Battery Digital Number will be started to flash one by one.
2、When charging completely , 100% is charged full.
3、Different Charging mode may lead to different fully-charged time.
3.2 Discharging
1、press the button to start the USB output ,then connect the device ,the device will be charged.
2、When the output current is lower than Imin(20--160mA) , last about several minutes later(defined by Tsleep In Ratings table), output port will shut off 5V discharging and enter into sleep state.
3.3 Capacity indicator
When discharging, digital number will show the capacity status.
3.4 Low voltage alarm function
If the power bank is lacking of power, the digital number will be flashed , means Power Bank need to charged.
4、Storage Conditions
To store the Power Bank for over three months, it is necessary to maintain the battery at 50% of the rated capacity (to charge once three months), and keep it in a dry and cool place, with a temperature range of 0ºC~40 ºC, free from contact with corrosive matters, and keep it away from fire and heating sources.
5、Tips & Warnings
5.1 To prevent leakage, heat and explosion, please take the following precautions:
5.2 DO NOT drop the Power Bank into water or damping it.
5.3 DO NOT use or store the Power Bank nearby heating source (e.g. fire or heater).
5.4 Please use qualified charger.
5.5 DO NOT put the Power Bank into the fire or heat the product.
5.6 It is forbidden to short circuit the positive and negative poles of the product with wires or other metal objects. It is forbidden to transport or store the product together with necklaces, hairpins or other metal objects.
5.7 DO NOT impact, throw or shock the Power Bank.
5.8 DO NOT Pierce the product shell with nails or other sharp objects. Do not hammer or pedal the Power Bank.
5.9 DO NOT weld the battery terminals directly .
5.10 Do NOT disassemble the product in any way.
5.11 DO NOT charge the Power Bank in fire or extreme hot conditions.
6、Warning
6.1 Do not place the Power Bank in a microwave oven or pressure vessel.
6.2 Stop using the Power Bank when there is any foreign smells, heating, distortion, disclosing or other abnormal phenomena; if the Power Bank is being used when charging, please remove it from the electrical appliance or the charger, and stop using it.
6.3 Keep the Power Bank out of the reach of children.
6.4 Leaked electrolyte may lead to fire or explosion.
6.5 If the electrolyte enters the eye after the product leaks, do not wipe, apply water rinse, immediately seek medical assistance, if not timely treatment, eyes will be hurt.
6.6 This Power Bank can only be used under the following conditions, otherwise it will reduce the performance of the product or shorten the service life of the product. Use of the product outside the specified temperature range may cause overheating, explosion or fire.
6.6 Do not use products in extremely hot environment, such as direct sunlight or hot days in the car. Otherwise, the product may overheat and catch fire (ignite), which will affect the performance of the product and shorten its service life.
6.7 When children are supposed to use the battery, teach them according to the manual's instructions, and keep a close eye on them.6.8 Children are not allowed to use this product.
6.9 If the USB Port of Power Bank becomes dirty, please clean them first. Otherwise, May result to poor contact or inability to charge.
☑️Free Worldwide Shipping: Free ship to over 200 countries & regions. Each order includes a real-time tracking number and insurance in case the package is lost or stolen in transit.
☑️Money-Back Guarantee: Within 30 days after receiving the product, if the item you received is defective, does not match the description, or any other problem, we will gladly issue out a replacement or refund.
☑️Safe & Secure Payment: We use encrypted SSL security to ensure that your personal and financial information is 100% protected. Safe payments with PayPal or credit card.
☑️24/7 Customer Support: Round-the-clock assistance for a smooth shopping experience, if you have any questions, please feel free to contact us.
We do our best to process & ship all orders as soon as possible. Most orders are processed within 48-72 hours. We process orders between Monday-Friday and do not ship on weekends.
We're proud to offer worldwide shipping for all orders.
| | | |
| --- | --- | --- |
| Shipping Method | Cost | Delivery Time |
| Free Standard Shipping | FREE | 7-14 Business Days (Worldwide) |
| Expedited Shipping | $15 | 5-10 Business Days (Worldwide) |
Tracking your order:
Our orders always include tracking information that is normally sent via email within 48 hours after the order has been shipped.
Last updated March 27, 2023
Customers may apply for a return or exchange within 30 days after receiving product(s). Refunds will be made by the same method you used to pay.
CANCELLATION
We allow customers to cancel orders before products are shipped. If your order is cancelled, you will receive a full refund.
However, if the product has already shipped, we will not be able to cancel the order for you.
RETURN/EXCHANGE CONDITIONS
All items must be returned in their original selling condition, without having been worn, washed or altered, and with all their tags still attached.
All items must be returned with their original boxes.
All items must be returned in one package.
Return/Exchange shipments must be made using the same service as the original delivery.
We can only accept returns/exchanges from the country to which an order was originally shipped, for example, orders delivered to the US must be returned from the US
Customised items cannot be returned.
The return/exchange is unfortunately not free of charge (import and shipping fees will be charged at your own expense).
We reserve the right not to accept any return/exchange if the product shows signs of wear or has been used or altered from its original condition.
HOW TO RETURN AN ITEM OR AN ENTIRE ORDER?
Step 1: Please contact our Customer service team to start the return process with the following information:
Order number
Proof of purchase
Video or photo of the faulty product
Step 2: After contacting customer service to obtain the return address, please pack the product and spare parts, and contact the courier company to pick up the item.
Step 3: Turn package over to the courier, after the courier has checked the return shipment, please close the package securely.
Step 4:After the courier picks up the package, please take a photo of the return tracking number and email it to [email protected]
Refund
We will notify you by email once your return has been received and reviewed. We will also notify you to approve or deny your refund.
If your refund is approved, your refund will automatically be returned to your credit card or original payment method, which usually takes 3-5 business days.
Exchange
Once your return has been received and reviewed, we will notify you by email. We will also notify you of approval or denial of the exchange.
If your exchange is approved, we will help you reissue the updated goods within 5 working days.
RETURN/EXCHANGE ADDRESS
In order to ensure the smooth delivery of your return, please contact our customer service email address below to obtain the return address.
Email: [email protected]
We strive to respond to your questions within 24 hours.