ACH/MICH 2000 Ballistic Helmet NIJ IV 7.62mm×51 Full Cut High Protection Assault Helmet Kevlar Bulletproof Helmet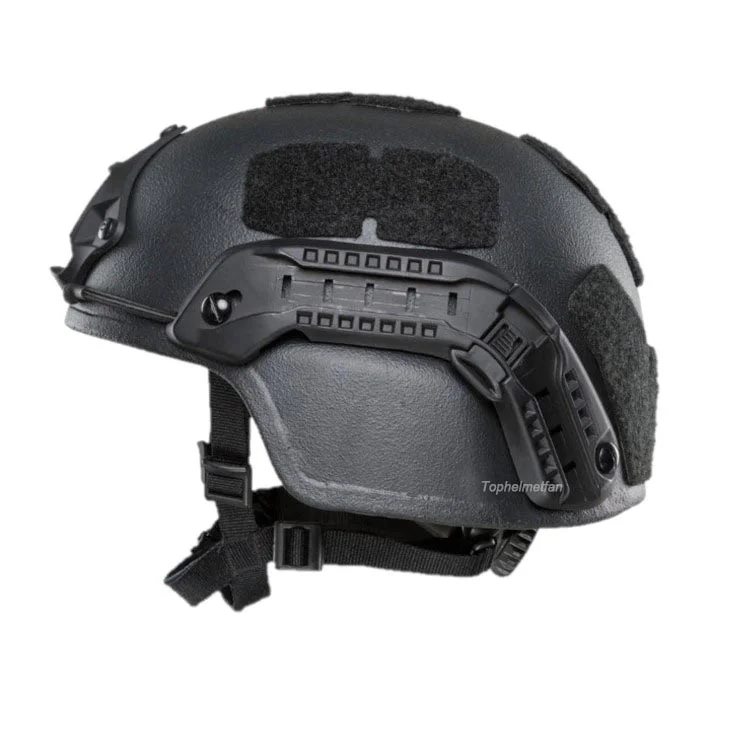 ACH/MICH 2000 Ballistic Helmet NIJ IV 7.62mm×51 Full Cut High Protection Assault Helmet Kevlar Bulletproof Helmet
The ACH/MICH 2000 Ballistic Helmet NIJ IV 7.62mm×51 Full Cut High Protection Assault Helmet Kevlar Bulletproof Helmet ACH/MICH 2000 Ballistic Helmet NIJ IV 7.62mm×51 Full Cut High Protection Assault Helmet Kevlar Bulletproof Helmet in service with multiple U.S. government agencies that can stop up to .50 cal AE and 7.62mm TKR.
Mil-spec setup and Velcro parts with the capability to add ComTacs by 3M.
Over-engineered to be safer and last longer. Lifetime warranty for all parts and defects.
You're supporting American jobs and workers that make quality products by hand.
The MICH/ACH Ballistic Helmet is among the most protective headgear available. These comfortable, lightweight Aramid helmets stop the strongest handgun bullets with minimal impact on the wearer. Each MICH helmet features superior craftsmanship that armed forces and police units trust. Order a MICH/ACH Level IV ballistic helmet from Tophelmetfan today!
Industry-leading features:
The ability to stop multiple bullet impacts - far above the current NIJ and industry standard. Accomplished with a lighter weight than the competition. Four-point leather chinstrap, tactical ARC rail system, waterproof coating, fireproof ballistic material, bullet-resistant.
Ballistic resistance: NIJ Level IV. Can stop 44 Magnum, 9mm, 45 cal, 40 cal, 38, 12 gauge slug, buckshot, and more.
Testing: Our MICH helmet is tested above and beyond NIJ standards by testing 18 rounds of various calibers (including .22, .380, 9mm, .40 S&W, .38 Special, .45 ACP, .50 Cal AE, and .44 Magnum) on different areas of the helmet (NIJ requires 4 rounds per test).
Certification: Each helmet carries an NIJ certification label. It will show that this helmet has passed various testing requirements such as ammunition, angle, back deformation, distance, etc.
Features:
Lightweight and higher performing than old Kevlar helmets, capable of NIJ IV
Can stop 44 Magnum, 9mm, 45 cal, 40 cal, 38, 12 gauge slug, buckshot, and many more! In addition to these rounds, this helmet also protects against stab/spike attacks and shrapnel/fragmentation.
Materials and craftsmanship are the same for civilians as it is for police and military.
Tested above and beyond the latest NIJ standards.
Rapid adjusting headband for quick and easy adjustments in the field.
Fully adjustable 4-point chin straps with a cloth chin grip to ensure the perfect fit and maximum comfort.
Memory padding that's fully adjustable with Velcro. It can be removed, exchanged, and beaten up and still keep its shape for years to come. Feels hard at first? Leave it in for a minute.
Tactical rail system with 2-point bungee and vertical + horizontal ARC rails for more efficient accessory mounting options.
Low visibility paints and fabrics. This makes the helmet harder to see in the dark since it absorbs as much light as possible instead of reflecting it.
Fire, water, and dust-resistant materials are used.
All of our helmets come with a 100%, transferrable lifetime warranty on parts and labor.
Specs:
Standard: NIJ IIIA, III, and IV latest 0106.01 and 0108.01 standards surpassed in testing
Aramid Shell Weight: 20-23" Size (2.5 lbs / 1.1 kg), 22-27" Size (2.9 lbs / 1.3 kg)
Total Weight w/ All Accessories: 20-23" Size (3.42 lbs / 1.55 kg), 22-27" Size (3.6 lbs / 1.63 kg)
Fits: See chart above (Head circumference measured starting above brow-line)
Material: Aramid shell with foam interior padding
Color: Black, Green
Sizes: S/M/L (Head Circumference = 20 - 23 in., Hat Size = 6 1/4 - 7 1/2) or L/XL/XXL (Head Circumference = 22 - 27 in., Hat Size = 7 1/8 - 8 1/2+)
Complies with: US Standard - Mil STD 662 E, UK Standard - UK/SC/5449, NATO Standard - STANAG 2920
Stops:
9mm FIOCCHI, 115gr. (FMJ)
9mm WINCHESTER RANGER, 127gr. (SXT)
.357 SIG, 115gr. (JHP)
.357 SIG, 125gr. (GDHP)
.40 CAL, 95gr. (HP)
.44 Mag, 240gr. (SJHP)
7.62mm x 25mm TOKAREV NORINCO, 85gr. FMJ (STEEL JACKET)
7.62mm x 25mm TOKAREV FOREIGN, 85gr. FMJ (STEEL JACKET)
7.62mm x 25mm TOKAREV S&B, 85gr. FMJ (STEEL JACKET)
.30-Cal Carbine, 110gr. (FMJ)
.50 CAL American Eagle, 350gr. (JHP)
5.7mm x 28MM, 27gr. (SS195)
5.7mm x 28MM, 40gr. (HORNADY BLUE TIP)
Other Compliance Standards:
VPAM: PM 1-5 with PM 6 resistance.
TR DE: SK L-2 with SK 3 resistance.
HOSDB: HG1/A-HG2 with RF1 resistance.
GOST: Class 1-2A with Class 3 resistance.
GOST 2017: BR 1-3 with BR 4 resistance.
Assembled and In the Box:
Upgraded IV Ballistic Helmet in selected color and size
Straps and harness system (Color matched)
Exterior Velcro (Color Matched)
ARC rail system (Color matched)
Bolts holding the ARC rails in place (Black)
Bungees with self-hold integrated into the ARC rails (Color matched)
NVG Shroud (Sometimes called the NVG mount) (Color matched)
Interior padding kit (safety)
A set of flashlight holders (convenient)
ARC to Picatinny adapter
NIJ Test Results
All TopHelmetFan helmets are tested to NIJ standards. Because we take your protection seriously, we also do our own testing. Each helmet in each batch is hand-checked for quality, and one helmet is randomly selected for field testing. If we didn't trust it, we wouldn't sell it.
FAQ:
Q: What is a MICH/ACH helmet?
A: The MICH or Modular Integrated Communication Helmet was created in response to the weight of the previously used PASGT Helmet. The PASGT helmet was heavier and didn't have attachment rails or NVG mounts. So in order to mount anything to it, soldiers would have to carefully drill holes into their helmets, which could compromise the integrity of the Aramid in the helmets. The PASGT helmet was also very heavy, so many soldiers opted for the fully plastic Bump helmet so they could have their attachments without the weight of the PASGT helmet. The MICH helmet is lightweight and has NVG attachment capabilities and 4-way attachment rails already built in.
Q: How is this helmet different from the competition?
A: This MICH/ACH ballistic helmet offers IV protection. This means that it rises to, then goes above and beyond in performance compared to most other helmets on the market. Our helmets are capable of taking multiple strikes, stabbings, shrapnel, etc. Some unique features include; highly adjustable interior padding, rigid exterior, smooth coat interior, all-weather and low-visibility paint, NVG mount, 4-way attachment ARC rail system, extra padding that's Velcro adjustable, bungees, cloth chin strap, materials that are fire, water, and dust-proof, and ratcheting head-capture system to fit almost any head size and shape.
Q: What attachments will this helmet take AND where can I get the ones that are pictured?
A: We didn't want to force customers into some proprietary or non-standard system. So we use the ARC standard rail system and military configurations for all our mounts/rails. Standard multi-NVG mounts, shrouds, and standard ARC rail system just to name three. This lets you fit all those attachments you already have, plus all the after-market ones you might need in the field.
Q: Are the rails, bolts, padding, bungee cords, velcro, and NVG included?
A: Yes they are attached out of the box. Everything in the pictures that remains constantly in the pictures is included with every helmet. The only things not included at this price are the add-ons like the clear bulletproof visor or Comtac headphones.
Q: What is the lifespan of a bulletproof helmet?
A: Bulletproof helmets made of Aramid, like this one, have a shelf life of 5 years when properly cared for. Because our helmet has an all-weather shield, it will last 5-7 years, depending on the care and use.
Q: What is the return policy?
A: See our full exchange and return policy here.
Understanding MICH and ACH Helmets
The U.S. began using the Modular Integrated Communications Helmet (MICH) design at the start of the war in Afghanistan. After adopting the MICH model, slight improvements were made under the name Advanced Combat Helmet (ACH).
MICH and ACH helmets are ideal for use with communications equipment because of their low-profile side brim. Four-point retention systems improve comfort while ensuring stability for the greatest impact reduction. Our Tactical rail systems (ARC) and higher front brows give these helmets compatibility with various attachments, including night-vision goggles and ballistic visors.
Level IV Ballistic Protection
Our MICH ballistic helmet offers Level IV bullet resistance and is tested beyond NIJ standards for Level IV. The National Institute of Justice (NIJ) requires helmets to withstand four shots, each to a different location on the helmet. The helmet's NIJ Level describes the types of bullets it can prevent from penetrating its surface and the speeds at which it resists penetration. The NIJ standard represents the only nationally accepted classification for ballistic helmet products.
Level IV is the highest for bulletproof helmets. We first test our helmets to meet the NIJ's requirements of stopping .357 SIG FMJ rounds traveling at 1469.82 fps and .44 magnum rounds at 1430.45 fps. When we are sure that the helmet meets these standards, we fire additional rounds from other weaponry. You can count on this helmet to stop any of the following rounds and more:
.44 Magnum
.357 SIG
9mm
10mm
.45 ACP
.40 S&W
.380
12-gauge slug and buckshot (safely from certain distances)
The Latest Military-Grade Ballistic Helmets Available to the Public
MICH and ACH are the latest available on the private market, as the U.S. recently began phasing in the new Enhanced Combat Helmet (ECH). The MICH design improves its predecessor, the Personnel Armor System for Ground Troops (PASGT).
MICH and ACH helmets are lighter than prior models while fitting closer to the head for greater comfort and performance. The addition of attachment rails gives MICH helmets greater versatility than PASGT models. What ultimately sets our MICH/ACH Helmets above the rest is Level IV protection. These helmets withstand shrapnel, knives, and multiple gunshots from pistols or shotguns, making them the ideal choice in close-quarters combat.
Order MICH/ACH Ballistic Helmets Online
You can find a MICH or ACH ballistic helmet for sale online through Tophelmetfan. We pride ourselves on developing military-grade equipment that anyone can use. Contact us today to discuss our products, testing procedures, wholesale options, and more.
☑️Free Worldwide Shipping: Free ship to over 200 countries & regions. Each order includes a real-time tracking number and insurance in case the package is lost or stolen in transit.
☑️Money-Back Guarantee: Within 30 days after receiving the product, if the item you received is defective, does not match the description, or any other problem, we will gladly issue out a replacement or refund.
☑️Safe & Secure Payment: We use encrypted SSL security to ensure that your personal and financial information is 100% protected. Safe payments with PayPal or credit card.
☑️24/7 Customer Support: Round-the-clock assistance for a smooth shopping experience, if you have any questions, please feel free to contact us.
We do our best to process & ship all orders as soon as possible. Most orders are processed within 24 hours. We process orders between Monday-Friday and do not ship on weekends.
We're proud to offer worldwide shipping for all orders.At the same time, we provide the following two logistics times for you to choose from:
| | | |
| --- | --- | --- |
| Shipping Method | Cost | Delivery Time |
| Free Standard Shipping | FREE | 7-14 Business Days (Worldwide) |
| Expedited Shipping | $12 | 5-10 Business Days (Worldwide) |


Tracking your order:
Our orders always include tracking information that is normally sent via email within 48 hours after the order has been shipped.
Last updated March 27, 2023
Customers may apply for a return or exchange within 30 days after receiving product(s). Refunds will be made by the same method you used to pay.
CANCELLATION
We allow customers to cancel orders before products are shipped. If your order is cancelled, you will receive a full refund.
However, if the product has already shipped, we will not be able to cancel the order for you.
RETURN/EXCHANGE CONDITIONS
All items must be returned in their original selling condition, without having been worn, washed or altered, and with all their tags still attached.
All items must be returned with their original boxes.
All items must be returned in one package.
Return/Exchange shipments must be made using the same service as the original delivery.
We can only accept returns/exchanges from the country to which an order was originally shipped, for example, orders delivered to the US must be returned from the US
Customised items cannot be returned.
The return/exchange is unfortunately not free of charge (import and shipping fees will be charged at your own expense).
We reserve the right not to accept any return/exchange if the product shows signs of wear or has been used or altered from its original condition.
HOW TO RETURN AN ITEM OR AN ENTIRE ORDER?
Step 1: Please contact our Customer service team to start the return process with the following information:
Order number
Proof of purchase
Video or photo of the faulty product
Step 2: After contacting customer service to obtain the return address, please pack the product and spare parts, and contact the courier company to pick up the item.
Step 3: Turn package over to the courier, after the courier has checked the return shipment, please close the package securely.
Step 4:After the courier picks up the package, please take a photo of the return tracking number and email it to tophelmetfanoffice@gmail.com.
Refund
We will notify you by email once your return has been received and reviewed. We will also notify you to approve or deny your refund.
If your refund is approved, your refund will automatically be returned to your credit card or original payment method, which usually takes 3-5 business days.
Exchange
Once your return has been received and reviewed, we will notify you by email. We will also notify you of approval or denial of the exchange.
If your exchange is approved, we will help you reissue the updated goods within 5 working days.
RETURN/EXCHANGE ADDRESS
In order to ensure the smooth delivery of your return, please contact our customer service email address below to obtain the return address.
Email: support@tophelmetfan.com
We strive to respond to your questions within 24 hours.