NIJ Level IV Ballistic Lightweight Ceramic Armor Plates Body Armor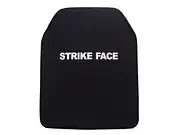 NIJ Level IV Ballistic Lightweight Ceramic Armor Plates Body Armor
This stunning set of self-contained ballistic plate body armor has a Class 4 (IV) protection rating to protect you from pistols and rifles. Adding ballistic panels to your Class IIIA (3A) bulletproof vest gives you the highest level of protection. Composed of polyethylene and ceramic alumina. Freestanding panels provide excellent protection for all without adding a Class IIIA soft panel. 10-year manufacturer's warranty, NIJ 0101.04 compliant. Single curve, SAPI/ESAPI cut and 6.8 lbs. (3.1 kg)
I. Description
Ballistic ceramic armor plates provide Level 4 (Level IV) protection when used with a ballistic vest.
Adding a Class 4 Ballistic Panel to your Class IIIA vest gives you the highest level of protection. This combination not only protects you from pistol fire, but also from rifle fire. Single curve, SAPI/ESAPI cut and 6.8 lbs (3.1 kg), it's constructed of monolithic ceramic and polyethylene making it an excellent choice for Class IV body armor with a convenient waterproof cover that can be used as a front panel or rear panel.
protected area:
10 x 12inches:25*30cm 5.4lbs
11 x 14 inches: 28x35 cm 6.8lbs
II. Caliber Protection
AK 47 7.62mm x 36mm PS
MI93, 5.56mm x 45mm
SS109 5.56mm x 45mm
AK 47 7.62mm x 36mm APIBZ
30.06,7.62mm x 63mm access point
III. NIJ Armor Protection Test Standard
| | | | | |
| --- | --- | --- | --- | --- |
| Protection level | Stops | Material | Weight | Thickness |
| LEVEL IIIA | .357 SIG, .44 MAGNUM | 100% PE PLATE | AS LIGHT AS 1.1 LBS. | 0.90″ |
| LEVEL III | 7.62 M80; .308 CAL | UHMW POLYETHYLENE | AS LIGHT AS 3.3 LBS. | 0.90″ |
| LEVEL III+ | 5.56 M855 GREEN TIP, 7.62X54R | PE+ CERAMIC-COMPOSITE | AS LIGHT AS 4.4 LBS. | 0.85″ |
| LEVEL IV | 5.56 M855, .30-06 APM2 | PE+ CERAMIC-COMPOSITE | AS LIGHT AS 6.0 LBS. | 0.90″ |
IV. Questions & Answers
1. Is this the best Tier 4 ballistic armor plate on the market?
Yes, it's available at the best price. Guaranteed to turn your Class IIIA vest into a Class 4 (IV) vest. It weighs only 6.8 pounds and is made of a ceramic material containing aluminum oxide and high-strength polyethylene. This kind of board is much lighter than steel plate, but the price is comparable. Strike Face ceramic ballistic panels are great value for money.
2. How many ceramic ballistic plates should I buy?
It depends on how much protection you need. SWAT teams and those hoping to be hit from the front wear a bulletproof plate in the breast pocket. Those in a war zone would wear two bulletproof panels: one in the front pocket and one in the back. Analyze your unique situation to determine how many plates you need.
3. Is this a SAPI dish?
Our plate is not currently used by the US military, but it provides protection similar to the Enhanced Small Arms Protective Insert (ESAPI) and provides more protection than the Small Arms Protective Insert (SAPI) plate. Our plates are the same size as medium SAPI and ESAPI plates and weigh the same as ESAPI plates.
☑️Free Worldwide Shipping: Free ship to over 200 countries & regions. Each order includes a real-time tracking number and insurance in case the package is lost or stolen in transit.
☑️Money-Back Guarantee: Within 30 days after receiving the product, if the item you received is defective, does not match the description, or any other problem, we will gladly issue out a replacement or refund.
☑️Safe & Secure Payment: We use encrypted SSL security to ensure that your personal and financial information is 100% protected. Safe payments with PayPal or credit card.
☑️24/7 Customer Support: Round-the-clock assistance for a smooth shopping experience, if you have any questions, please feel free to contact us.
We do our best to process & ship all orders as soon as possible. Most orders are processed within 48-72 hours. We process orders between Monday-Friday and do not ship on weekends.
We're proud to offer worldwide shipping for all orders.
| | | |
| --- | --- | --- |
| Shipping Method | Cost | Delivery Time |
| Free Standard Shipping | FREE | 7-14 Business Days (Worldwide) |
| Expedited Shipping | $15 | 5-10 Business Days (Worldwide) |
Tracking your order:
Our orders always include tracking information that is normally sent via email within 48 hours after the order has been shipped.
Last updated March 27, 2023
Customers may apply for a return or exchange within 30 days after receiving product(s). Refunds will be made by the same method you used to pay.
CANCELLATION
We allow customers to cancel orders before products are shipped. If your order is cancelled, you will receive a full refund.
However, if the product has already shipped, we will not be able to cancel the order for you.
RETURN/EXCHANGE CONDITIONS
All items must be returned in their original selling condition, without having been worn, washed or altered, and with all their tags still attached.
All items must be returned with their original boxes.
All items must be returned in one package.
Return/Exchange shipments must be made using the same service as the original delivery.
We can only accept returns/exchanges from the country to which an order was originally shipped, for example, orders delivered to the US must be returned from the US
Customised items cannot be returned.
The return/exchange is unfortunately not free of charge (import and shipping fees will be charged at your own expense).
We reserve the right not to accept any return/exchange if the product shows signs of wear or has been used or altered from its original condition.
HOW TO RETURN AN ITEM OR AN ENTIRE ORDER?
Step 1: Please contact our Customer service team to start the return process with the following information:
Order number
Proof of purchase
Video or photo of the faulty product
Step 2: After contacting customer service to obtain the return address, please pack the product and spare parts, and contact the courier company to pick up the item.
Step 3: Turn package over to the courier, after the courier has checked the return shipment, please close the package securely.
Step 4:After the courier picks up the package, please take a photo of the return tracking number and email it to tophelmetfanoffice@gmail.com.
Refund
We will notify you by email once your return has been received and reviewed. We will also notify you to approve or deny your refund.
If your refund is approved, your refund will automatically be returned to your credit card or original payment method, which usually takes 3-5 business days.
Exchange
Once your return has been received and reviewed, we will notify you by email. We will also notify you of approval or denial of the exchange.
If your exchange is approved, we will help you reissue the updated goods within 5 working days.
RETURN/EXCHANGE ADDRESS
In order to ensure the smooth delivery of your return, please contact our customer service email address below to obtain the return address.
Email: support@tophelmetfan.com
We strive to respond to your questions within 24 hours.
I am a Florida police officer and our police department purchased some MICH NIJ IIIA ballistic helmets from Tophelmetfan in 2019, we received it in 5 days and the helmet looks very good. During a mission in 2021, I was hit in the head at close range. At that time, my head hurt and my brain went blank. But I woke up immediately after taking a short rest. Fortunately, although I was hit, it was not penetrated. Only a small hole was made in the helmet, and beige Kevlar fiber could be seen inside. Thank you very much Tophelmetfan, now it has become our designated supplier, we will buy bulletproof helmets and body armor from there every year.