NIJ LEVEL IV 1000D New Laser Cutting Quick Release Tactical Vest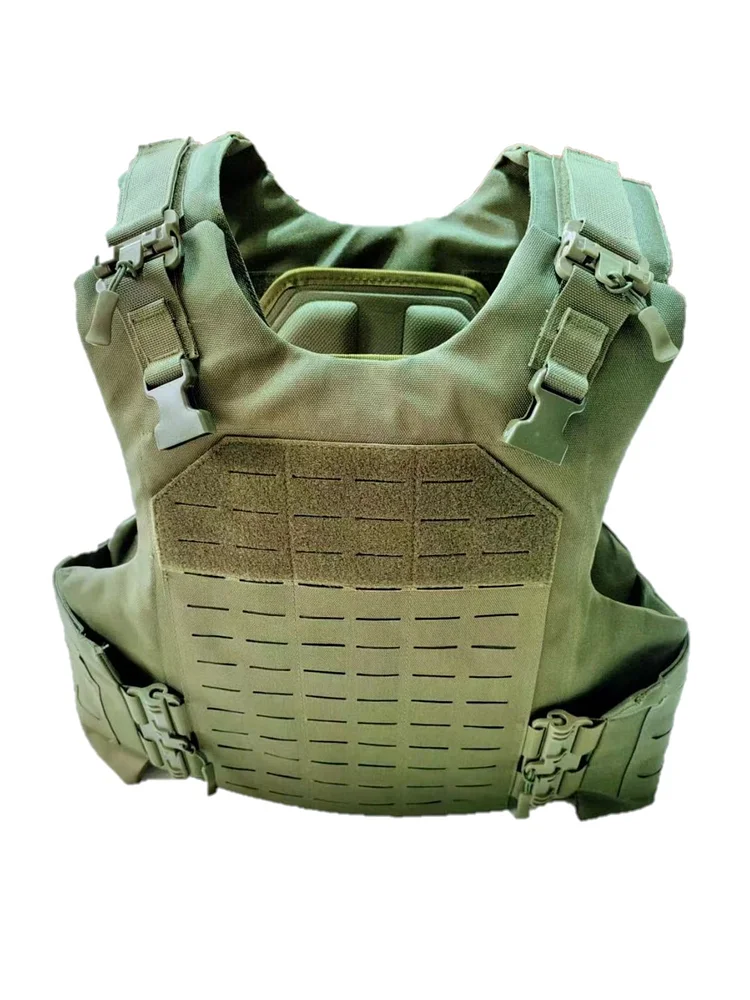 NIJ LEVEL IV 1000D New Laser Cutting Quick Release Tactical Vest
I. Product Specifications
Material: Polyethylene fiber without weft
Size: One Size, Adjustable
Weight: 5.6lbs
Bulletproof rating: NIJ IV
Protected area: The protected area is about 0.15 square meters
The new laser-cut quick-release tactical vest is made of Oxford cloth 1000D and stitched with nylon thread. It has excellent qualities such as tear resistance and good wear resistance. The vest adopts laser cutting design, and the combined pendant on the vest can be removed at will. The front and back Velcro design allows you to change the words and match it at will. The length of the shoulder strap is adjustable and has a breathable and pressure-reducing function. The shoulders and waist are designed with buckles and quick release. When it needs to be taken off, just pull it gently and the whole piece of clothing will come off quickly, which is convenient and fast. It is an upgraded version of the traditional quick release), which is convenient for tactical team members during rest or rescue. It realizes the efficiency of quick removal and installation, making it convenient for SWAT soldiers to use it flexibly.
Waist side protection, removable comfortable breathable shock-absorbing lining
Laser cut molle mounting systems front and rear
Can be used with a variety of accessory packages
II. Product description
Molle system can be freely combined with equipment bag
Adjustable shoulder straps, adjustable premium waist belt
Velcro can be changed at will
Can put stab-proof inner core, bulletproof inner core
Chest storage bag
Stab-proof: The stab-proof inner core is composed of 16 layers of high-performance polyethylene, and the stab-proof vest's stab-proof layer is made of a black dense waterproof and light-proof protective cover.
Stab resistance was tested at room temperature using standard test tools and counterweights, resulting in a 2.4 kg drop. The impact energy of 24J plus or minus 0.5J can effectively sprint into the stab-resistant clothing at 0 degrees, 45 degrees, and penetration angles. The tip of the knife will not penetrate.
Bulletproof: Protective layer structure: The protective layer structure of bulletproof stab-proof clothing is composed of 45 layers of polyethylene fiber non-weft cloth (four layers orthogonal) + 1 layer of 4.5mm thick foam.
Composition: The bulletproof stab-proof clothing consists of a jacket, a bulletproof layer and a bulletproof layer protective cover. The jacket is removable and washable, and the shoulder and waist are adjustable.
Sleeve sealing performance: The protective layer is sealed with an anti-seepage and anti-seepage black protective sleeve, and the sealing edge is uniform. The protective cover material is impermeable to water, and the anti-hydrostatic pressure is not less than 18kPa
Wearing flexibility: flexible wearing, easy to put on and take off. After wearing, the free movement of the arm and the human body's kneeling, jumping, running, pitching, turning and other movements should not be significantly restricted.
Ballistic resistance at room temperature: Tested with 1979-style 7.62mm light submachine guns and 1951-style 7.62mm pistol cartridges (lead core). In the case of an effective hit, the bullet is blocked, and the maximum groove depth should be less than or equal to 25mm.
Immersion bulletproof: Under normal temperature, soak the bulletproof stab-proof clothing in water for 30 minutes, and then conduct the bulletproof test. In the case of effective blows, to withstand bullets, the maximum concave depth of the backing should be less than or equal to 25mm.
High temperature ballistic resistance: After high temperature test (+55℃±2℃, constant temperature 4h), test the ballistic resistance within 15min. In the case of an effective hit, the bullet is blocked, and the maximum sag depth of the backing is ≤25min.
Low temperature ballistic performance: After the low temperature test (-20℃±2℃, constant temperature for 4h), the ballistic performance test is carried out within 15min. In the case of an effective hit, the bullet is blocked, and the maximum sag depth of the backing is ≤25min.
Bulletproof damp heat performance: After the damp heat test (70℃±2℃, 80% relative humidity, 240h), the bulletproof performance test is carried out. In the case of effective hitting, the bullet is blocked, and the maximum sinking backing depth is less than or equal to 25min.
III.HOW TO CHOOSE THE CORRECT SIZE OF YOUR BODY ARMOR
☑️Free Worldwide Shipping: Free ship to over 200 countries & regions. Each order includes a real-time tracking number and insurance in case the package is lost or stolen in transit.
☑️Money-Back Guarantee: Within 30 days after receiving the product, if the item you received is defective, does not match the description, or any other problem, we will gladly issue out a replacement or refund.
☑️Safe & Secure Payment: We use encrypted SSL security to ensure that your personal and financial information is 100% protected. Safe payments with PayPal or credit card.
☑️24/7 Customer Support: Round-the-clock assistance for a smooth shopping experience, if you have any questions, please feel free to contact us.
We do our best to process & ship all orders as soon as possible. Most orders are processed within 24 hours. We process orders between Monday-Friday and do not ship on weekends.
We're proud to offer worldwide shipping for all orders.At the same time, we provide the following two logistics times for you to choose from:
| | | |
| --- | --- | --- |
| Shipping Method | Cost | Delivery Time |
| Free Standard Shipping | FREE | 7-14 Business Days (Worldwide) |
| Expedited Shipping | $12 | 5-10 Business Days (Worldwide) |


Tracking your order:
Our orders always include tracking information that is normally sent via email within 48 hours after the order has been shipped.
Last updated March 27, 2023
Customers may apply for a return or exchange within 30 days after receiving product(s). Refunds will be made by the same method you used to pay.
CANCELLATION
We allow customers to cancel orders before products are shipped. If your order is cancelled, you will receive a full refund.
However, if the product has already shipped, we will not be able to cancel the order for you.
RETURN/EXCHANGE CONDITIONS
All items must be returned in their original selling condition, without having been worn, washed or altered, and with all their tags still attached.
All items must be returned with their original boxes.
All items must be returned in one package.
Return/Exchange shipments must be made using the same service as the original delivery.
We can only accept returns/exchanges from the country to which an order was originally shipped, for example, orders delivered to the US must be returned from the US
Customised items cannot be returned.
The return/exchange is unfortunately not free of charge (import and shipping fees will be charged at your own expense).
We reserve the right not to accept any return/exchange if the product shows signs of wear or has been used or altered from its original condition.
HOW TO RETURN AN ITEM OR AN ENTIRE ORDER?
Step 1: Please contact our Customer service team to start the return process with the following information:
Order number
Proof of purchase
Video or photo of the faulty product
Step 2: After contacting customer service to obtain the return address, please pack the product and spare parts, and contact the courier company to pick up the item.
Step 3: Turn package over to the courier, after the courier has checked the return shipment, please close the package securely.
Step 4:After the courier picks up the package, please take a photo of the return tracking number and email it to tophelmetfanoffice@gmail.com.
Refund
We will notify you by email once your return has been received and reviewed. We will also notify you to approve or deny your refund.
If your refund is approved, your refund will automatically be returned to your credit card or original payment method, which usually takes 3-5 business days.
Exchange
Once your return has been received and reviewed, we will notify you by email. We will also notify you of approval or denial of the exchange.
If your exchange is approved, we will help you reissue the updated goods within 5 working days.
RETURN/EXCHANGE ADDRESS
In order to ensure the smooth delivery of your return, please contact our customer service email address below to obtain the return address.
Email: support@tophelmetfan.com
We strive to respond to your questions within 24 hours.